Angel Hugo Blanco Galdós Presente!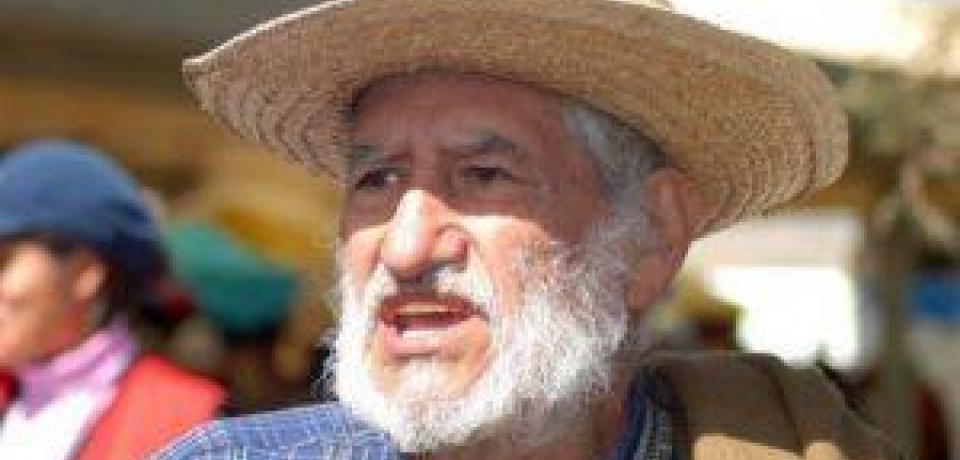 Hugo Blanco was born 15 November 1934 in Cusco, Peru. He died on 25 June 2023 in Uppsala, Sweden.
"Hugo Blanco has set an example." So wrote Che Guevara about the period of Blanco's life when he became a central organizer of the movement for land reform from below in La Convención and Lares, Peru between 1958-63. The repression meted out to the campesinos led to them forming armed self-defence squads.
That seminal period of Hugo's life certainly has many lessons for revolutionaries across the globe but so do many other phases of his long life.  
As a result of the role he played as a campesino organiser, Blanco was arrested. The local police were under orders to kill him, whereas the military police were ordered to take him alive. Fortunately, it was the latter that took him. But during his trial, which took place in Tacna, because the state assumed he had less support there than in Cusco, the prosecutor demanded the death sentence.
In the end he was sentenced to twenty-five years and imprisoned in the fortress on the penal island of El Frontón. This was a partial victory for a significant international campaign for his release, led by the Fourth International but with much wider support including figures like Simone de Beauvoir and Bertrand Russell. In 1968 he was chosen by the Swedish section of Amnesty International as prisoner of the Year. 
During the time he served in prison, in the end around five years, he wrote extensively. An English translation of much of that work was published as Land or Death: The Peasant Struggle in Peru in 1977.  
His writing is incredibly vivid, both in this first book and everything else he wrote over many decades, brilliantly conveying the brutal reality that landless people were subjected to by the landowners who imposed a form of feudal servitude. The fact that Indigenous communities were forced to work the land stolen from their communities by imperialism is an integral part of the indignity that leads to resistance – and at high points to rebellion.
Blanco, who came from a political family, started political activity when he was 17 and at college in Cusco in 1951, organizing a successful strike against a dictatorial head. He became a Trotskyist and a member of the Fourth International as a student in Argentina, motivated particularly by opposition to the coup in Guatemala in 1954. He abandoned his studies and became a factory worker and active trade unionist in La Plata.
He returned to Peru in 1957 and took another factory job and threw himself into political organizing in Lima. He was involved in organizing a demonstration against Nixon's visit to the Peruvian capital in 1958. Perhaps to escape the attention of the police who were becoming particularly interested in his activities, he moved to La Convención, became a sub-tenant farmer and began organizing there.
Without at all diminishing the work he did previously, it was in this context that his most unique contribution to revolutionary struggle and to radical ideas was to develop.
Blanco's own assessment in a 2020 interview puts it like this: "Personally, what I consider to be most important in the trajectory of my life is the struggle for the land to belong to whoever works it, the organization of this struggle in a democratic way by making decisions in assemblies and the demand for the dignity of the indigenous and peasant population".
During Blanco's imprisonment Juan Velasco had become President of Peru as the result of a successful military coup. He presented himself as a progressive in favour of land reform. He tried to do a deal with Hugo by saying he would let him out of prison if he became part of his land reform team.  Hugo responded "I'll be part of your team if we don't do the land reform that you want, nor the one I want, but go around the country, ask, and do the land reform that people want."
Velasco did not accept that but was under a huge amount of pressure so eventually he deported Blanco to Mexico in 1971. Hugo Blanco travelled to Argentina the following year and from there to Chile where Allende was then in power. During the coup against Allende in 1973, he took refuge in the Swedish embassy and was granted asylum in that country and lived there for a number of years.
In 1975 Blanco returned to Peru. Velasco had been deposed by Bermúdez who promised amnesty to those deported under his predecessor. For a year of so Hugo was able to travel round the country but on 3 July 1976 as protests against austerity grew, he was arrested and deported back to Sweden.
In 1978 he was again able to return home to stand as a candidate for the constituent assembly as part of a united left list, Frente Obrero Campesino, Estudiantil y Popular (FOCEP), supported by the Partido Revolucionario de los Trabajadores (PRT), the Peruvian Fourth Internationalists. By the time he was successfully elected he had been thrown out again, so he undertook a speaking tour of Europe denouncing the repression, gaining so much support that he was eventually allowed back and sworn in as a deputy.
Over the next decade and more Hugo was to hold a variety of elected positions – in Congress between 1980-85 for the Partido Unificado Mariateguista and as an Izquierda Unida senator between 1990-92, elected in broad campaigns supported by the Peruvian section. In 1980, in the first presidential elections for many years, Blanco also stood as the PRT candidate. 
He was forced to flee again in 1993 by a combination of threats from Shining Path and the security services and lived in Mexico for the next four years. He was hugely influenced by the Zapatista uprising of 1994 in Chiapas. He then returned to Peru and resumed his work building the peasants movement, starting to publish the monthly newsletter Lucha Indigena (Indigenous Struggle) in 2006.
During the twenty first century, many revolutionary socialists have come to understand the importance of the fight for ecosocialism in the face of the environmental catastrophe that we are increasingly facing. Hugo argued that while Indigenous communities may not use the term ecosocialism, they have been fighting for ecosocialism for 500 years.
The Indigenous in the Andes and the Amazon believe "humanity is a daughter and part of Mother Earth. We must live in her bosom in harmony with her. …We love and care for Pachamama. We fervently long to return to basing our economy on her rich biodiversity through agriculture and natural medicine, along with any modern advances that do no harm."
Blanco's health suffered from the many beatings he suffered through his years of struggle. In 2002 he had brain surgery in Mexico and was treated afterwards in Cuba. His condition deteriorated again over the last years of his life, and he died in Sweden after a short but acute illness.
Even though Hugo Blanco did not die a member of the Fourth International, he belonged to  Fourth International organizations from his youth in Argentina and during many decades. We always considered him a comrade and he us. He himself pointed out that the Fourth International led the way in the campaign to save him each time his life was threatened.
Most of us heard of his passing through memes circulated by his children on social media with his smiling face and emblematic straw hat, the dates of his life and words by Bertolt Brecht.
There are those who struggle for a day and they are good,
There are those who struggle for a year and they are better,
There are those who struggle for many years and they are better still,
But there are those who struggle all their lives and they are the indispensable ones
Fittingly these were also the words that start the introduction to Hugo Blanco's book, We the Indians: the indigenous peoples of Peru and the struggle for land (Resistance Books and Merlin Press 2018). While we mourn the fact that we will no longer be able to fight alongside Hugo or dialogue with him in person, we are sure that his ideas and his indefatigable determination will live on in the hearts of many as they do in ours.
Angel Hugo Blanco Galdós Presente!
Executive Bureau of the Fourth International
28 June 2023